The Vaizard Institute is a non-governmental, non-profit organization founded to provide backing to people who want to make the world a better place.
When I was a boy growing up in Pennsylvania, I lived near a town called New Hope that was famous as a place where artists moved to live and work together. I don't know how New Hope became a Mecca for artists, but the energy and creativity created by the people who chose to live there made visiting New Hope a kind of magical place. Walking down the main street and stopping in the stores was a great way to spend a Saturday.
New Hope came together by accident; the Vaizard Institute is an organization trying to bring together the same kind of creativity and energy, but with a more directed purpose: the betterment of the world.
Vaizard was created by Pavel Stratil and Kuba Konvica and is located in Brno, Czech Republic. They are currently busy outfitting a former cold-storage warehouse for use as an art/exhibition/work space and are accepting Bitcoin for donations. I was fortunate enough to be in touch with Pavel to get some of my questions about Vaizard answered.
Can you tell me something about yourself?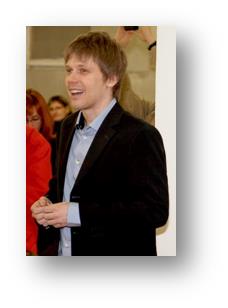 I was born in 1980 in Brno. I was lucky/unlucky (take your pick, but I consider it lucky) to have lived my childhood under a communist dictatorship. This hasn't affected me negatively in any way that I can see, but I do remember the fear and despair among the adults while I was growing up, along with the skewed values these produced. I also remember the hope and dignity of the Velvet Revolution and the transition to democracy. Later, when I had an opportunity to travel around the world, these experiences made me more sensitive to people's rights, freedom of speech, and things like that.
When I was still a pre-teen, maybe ten or twelve, I became fascinated by Eastern philosophies. I took up Buddhism and Daoism as a hobby and then got interested in Tai Chi and Chinese medicine. I've been running a Tai Chi school for over a decade and teach practical Daoism whenever the fancy catches me.
I got my basic tech literacy doing 3d graphics on an i386 in Pascal/Assembler. In 2009, after travelling abroad and starting a business, I mastered in plasma physics. I got interested in Gentoo Linux package maintainership for a while and was doing research in plasma physics until I got discouraged by some frauds working in the field. Finally, when I began to work on Vaizard, I got a second Master's degree to help me with Vaizard.
Vaizard is a kind of wide reaching organization, but it seems that the basic motivation is to bring a lot of people from different fields to work on bettering the human condition. What's the motivation behind Vaizard?
Well, I always fantasized about "changing the world." This dream didn't leave me even when the idea stopped being cute as I got older. At a certain point, this physics/Doaism/Tai Chi thing changed something for me. I've developed a pretty exact view of what kind of life I want to live. In fact, I consider physics the absolute best philosophical system that the West can offer … the only thing is, it uses math as a language.
Sometime between 2005 -2008, the urge to do something about the world I live in got stronger. I wanted to do something, and after eliminating unrealistic (read expensive) and dirty (read politics-related), an NGO seemed like the only solution. I thought about doing something under my own name, but I wanted something that would, ideally, outlast me and my own limitations. I spent 2009 reading more about the laws governing NGOs than I ever wanted to, and in 2010 Vaizard was founded.
Why "Vaizard"?
This is a silly story, but there's a Japanese manga called "Bleach." In the story, the Vaizard are guys and girls who merge good and bad within themselves to become stronger. Likewise, in Daoism, people who are 'complete' are called mages. The idea was to come up with a name reflecting that underlying philosophy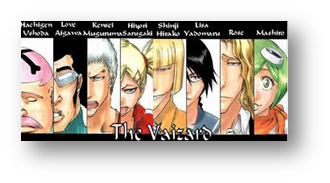 while not sounding like a cult name. I avoided Daoist terms for that reason and stuck with Japanese pop culture. In retrospect, this has put me in the position where I have to explain the name a lot, so probably I could have done a better job picking a name!
The name does fit the underlying philosophy, though: the idea is to abstract notions of what's good and bad (because those values are never absolute) and recognize what is natural and essential. As an example: war. Sometimes the conflicts that cause wars are unavoidable, but the results of war could usually be achieved without wasting so much energy (physical and emotional). While I won't judge any particular war as good or bad, in most cases it's not "natural" and is self-defeating.
These same principles can be applied to anything. With people, personal traits are often differentiated as good or bad. Instead of learning how to use all their traits, people try to limit the bad ones. But the 'bad traits' categorization is based on peoples'/society's morality and self-perception which is not itself immutable, but changes from decade to decade, country to country, and person to person. A bad trait in one context may not be considered bad at all in another, so it's all relative again.
Despite this, people spend a lot of time and energy fighting their fears, their greed, or what not. But these traits are all, on some level, genetic predispositions deeply encoded within ourselves. Fighting them is just fighting ourselves while instead we could be using our full potential, all our traits, without labeling them as good or bad, putting them into 'right' or 'wrong' baskets.
Another example of this would be people's views on sustainability. Vaizard aims for what we like to call "hedonistic sustainability." This means creating economies, societies, and systems that allow people to get the most out of their lives and which are also sustainable, hence hedonistic.
You are currently outfitting a cold-storage warehouse for use. Can you tell us about what you are doing there?
Yep. In the beginning, our projects were more virtual in the sense that there was no permanent physical evidence of the work we were doing. This turned out to be a problem since I wanted the organization to get more traction faster and people like to see something tangible. I came up with the idea of turning this unused facility into something else, an awesome place to which we could attract smart, creative, open minded people.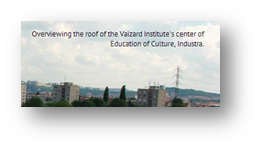 We hope concentrating that energy where will help to wake people up and bring hope to all everyone who has resigned themselves to just living to survive. The project is called Industra and is targeted at Brno, the second largest city of Czechia, but it should grow in scope to be Europe-wide soon.
At first glance, Industra is a (probably) unique concept of seemingly unrelated, but interconnected projects and services (some of which are dearly missing in Brno). This space will allow people to learn, work, play, and get inspired. Since we have LOTS of space to use, we can afford to start big:
A gallery of contemporary art – we hope to find talented people from all over the world and bring them here. They can stay here, create something awesome, use the space for exhibitions, drama, or music, etc.
A collaboration space with an adjoining makerspace/lab supported by a nonprofit startup incubator to allow people to work and learn together. This space will give other local NGOs a place to be, provide them with services, foster an exchange of ideas, etc.
Sports and play spaces for both kids and adults to relax and to work on synchronizing their bodies and minds.
Lecture halls and lounges for people to learn, mix, meet, share ideas, etc.
Basically, Industra will be a meeting ground for students, business professionals, scientists, artists and musicians, 'ye ole ordinary folk,' craftsmen, NGO people, etc. It will be open to people of different origins and ethnicities. It will be accessible to people with various sorts of disabilities. Really, we hope to make this space as welcoming to as many different kinds of people as possible to help them get out of their own circles and to learn and create more opportunities.
By creating this space, we aim to infuse a sense of responsibility, empathy, and other feeling that will bring people together to make a better future for us all. Once Industra is up and running, we plan to turn it into a kind of NGO franchise which can then be brought to other places networked with the established centers. We'll use Industra to unit and to lead NGOs and NPOs towards greater efficiency and to impact the lives of as many people as possible.
You have a number of different project areas, including science, arts, and 'katsu.' Have you had any successes yet and what are you expecting soon?
For the arts, we mainly focus on promoting talented artists. You can check out a recent event on our Facebook page. Katsu is a Japanese word meaning 'activity.' We chose to use an unfamiliar word because we didn't want to use a word that already had a lot of baggage. Katsu concerns itself with art in movement, connecting the body and the mind. Basically, this means year-round Tai Chi classes, yoga, etc. At Industra, we'll expand this to parkour, calisthenics, and things of that kind. We invite the best people in the world to head workshops with international attendance. As to science, most of the work is in the field of sociology and management studies. We currently have a long-term project going monitoring the Vietnamese community in Czechia and we intend on opening a lab at Industra with equipment that will allow for hard scientific research.
Your group does seem to be very forward thinking, so I guess it shouldn't be a surprise that you accept Bitcoin.

We believe that human rights are an absolute necessity for the development of a sustainable society. Big data, the increasing surveillance of people, are a threat to our privacy and to free speech. We believe that Bitcoin can play a very important role in creating free societies and rightfully deserves our attention. We have gotten more than 3.5 BTC, which doesn't sound like much, but actually makes a big difference when we convert them into analog money.
We also appreciate that since these donations were international, we feel that it was because these donations could be made by BTC that we were able to receive them.
Any final thoughts?
As you noticed when you initially got in contact with me, we don't save kittens, feed children, etc. The reason is that there are already others doing that all around us and they are good at it. We do things that others aren't doing or can't do as well as we can. We are focusing on changing society at its core, so that at some point NGOs and NPOs won't actually need to exist because things will just work.
We'd like to thank Pavel for taking the time to answer our questions. We at BitcoinWarrior.net love the opportunity to highlight people trying to do good in the world and who use Bitcoin to do it. Please visit them here. If you know of this kind of project that deserves a bit of publicity, please contact us at [email protected]tcoinwarrior.net.