Since the days of Edgar Rice Burroughs in the early 1900's, "Pulp" has been a special place in the world of literature. It captures the imagination of readers who want to experience passion and adventure in a more vivid and exciting way than traditional storytelling, allowing twists and turns for fictional protagonists that we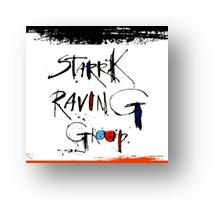 sometimes wish we could be ourselves. In the digital age of "Pulp", we've watched this trend spread almost virally thanks to exciting gaming and graphic novelists, like Frank Miller and Gary Phillips, who have pushed that envelope and our imagination further in every direction. So, it's no surprise that the eBook era has ushered in a new Pulp renaissance, Pulp 2.0 if you will in taut, plot-driven, witty, sensuous, action-packed character-centric writing harkening back to the early days of Burroughs himself as well as the adventure fiction of the 60's and 70's.
Our company, Stark Raving Group, a new digital publisher of novellas (shorter novels of approximately 70 – 120 pages), brings stories of pulp, crime, mystery and action-adventure thrillers to new and avid readers through their proprietary platform called Bookxy at www.bookxy.com. We're a group of insanely passionate thrill-riders of Pulp, led by their founder Grammy winner Jeffrey Weber, and we are the first eBook publishers to accept payment by Bitcoin.
"Bookxy is on the cutting edge of digital publishing. By releasing many previously unpublished novellas by some of the world's bestselling authors, we are already doing what no one else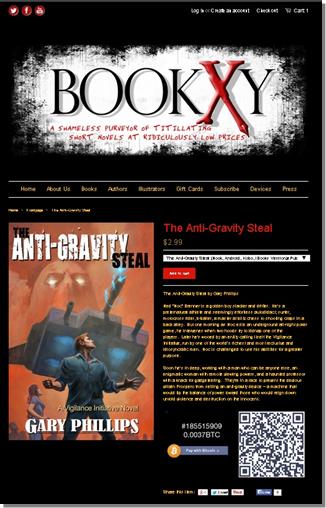 has done. It only follows that we would be the first ePublisher to accept Bitcoins."
The Bitcoin payment gateways allows transactions to instantly be converted to cash. So the consumer can make the purchase in Bitcoin at whatever the current rate is, and you are always paid an amount equivalent to your standard USD price. Bookxy sells eBooks priced at $2.99 USD, the Bitcoin price varies depending on whatever the current exchange rate is (which is approximately $0.003623 BTC at the time I wrote this), but no matter what, we get our $2.99. This alleviates any risk due to the volatility of Bitcoin and in a way makes it the same as accepting Credit Cards or PayPal online, except for one fun little fact… Bitcoin has negligible processing fees! This lowers overhead and increases margins! For example, the transaction fees from Bitcoin are almost never higher than 1%, while the Credit Card processing fees are double that between 2-3.5%, and PayPal is typically 3-4% Because Bitcoin is not a company and does not need to make a profit, you cut out the middle man, and can hold on to more money! By accepting Bitcoin at Bookxy, we have the potential to save/earn thousands more per month!
Bookxy allows readers to read genres of mystery, crime fiction, action-adventure and thriller novellas (short novels with great plots and characters) on their tablet, computer, Smartphone and Kindle. Written by some of today's most popular authors including Stephen Hunter, Eric Van Lustbader (the Bourne series), Gary Phillips, Eric Beetner, Paul Bishop, Harley Jane Kozak, Don McLeod, Laurie Stephens, and many more, Bookxy's art is not limited to merely words.
Each novella's cover will be illustrated by renowned illustrators as well, inclu ding work by graphic novel, comic book, and film artists including William Stout (Tarzan of the Apes, Rolling Stones' All-Meat Music), Marc Sasso, Roger Huyssen, Derek Riggs (Iron Maiden), Adam Shaw, Tony Washington(World of Witchcraft) and Mark Maddox. Bookxy's novellas can be easily read from the convenience of computer, Smartphone, tablet, or Kindle.
They are also available as a subscription service, which reduces the price of each book to $2.70, totaling $32.40/year. Two year subscriptions are also offered, further decreasing the price of each novella to $2.50 per book.