Our place is situated between two nature reserves, the Alonei Aba nature reserve on the one side and the Tzippori Brook nature reserve on the other side. Aloney Aba is a 235-acres nature reserve, home to the Valonia oak trees and Palestine oak. The Tzippori Brook flows down the Nazareth Mountains through the valley below the village, where also the Eyn Yivka spring is located. The spring flows into a large pond with walls constructed during the Roman period. The spring is surrounded by pomegranate orchards and green patches of lawn, which stretch over an old road along the river leading to the Carmelite Monk Wheat Mill from the Ottoman period.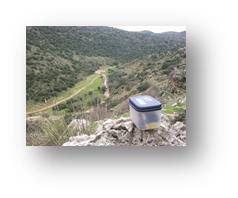 One of the goals of Bitcoin Warrior has been to promote Bitcoin accepting business, help them achieve success, and help the Bitcoin economy grow. Most of the businesses that have responded to me when I ask them about their experiences with Bitcoin have been located in North America. But Bitcoin is an international phenomenon and I am very happy when I get the opportunity to talk to someone from outside the US.
I got in touch with Tom at the Galilee Bedouin Camplodge, a campground offering accommodation for backpackers to holiday makers and accept Bitcoin in the process. As someone who has a deep interest in history, a love of camping and travel, and a desire to support Bitcoin, this is a destination I am definitely adding to my bucket list.
Here is part of the conversation that I had with Tom:

Could you tell me about yourselves?

We opened our business almost two years ago, in December 2011. We're located inside the Bedouin village Hilf Tabash. With so much trouble in the world, we try to show that coexistence is possible. For that reason, this type of camp is very unique in Israel.

In the beginning, most of our guests were groups of Israelis who came to celebrate birthdays, bar/bat mitzvas, or otherwise enjoy the Israeli countryside. In the last year, we have also started seeing more tourists who visit us from all over the world.
Our prices are pretty low and a lot of our customers are backpackers, but there are a lot of different kinds of people who come to visit us: young, old, single, groups, and large groups of students from all over the world. We love the seeing all sorts of different people here!

What's your involvement with Bitcoin?

I am the kind of person who likes to try out new and different things. I am especially interested in new ways for people to get together and collaborate and to try to change the way our society works. I became interested in Bitcoin because it seemed like something that might really be able to make a difference.

We started accepting Bitcoin because of the way it might serve to improve society and as a marketing tool. There aren't a lot of businesses that work with Bitcoin here in Israel, so we are hoping that accepting Bitcoin will help more people from all over the world find out about us.

And it's simple. If a guest wants to pay with Bitcoin, we just give him an address and they can pay.

… if you want to feel Israel with its mountains and nature …
… if you'd like to "drink" pure silence …
… if you want to feel the wind during the nights …
… and sleep under the sky …
… if you enjoy some religion which is not "only" Jewish …

From the Bedouin Camplodge Guest Book

Our thanks to Tom for responding to our questions, and our apologies for taking so long to post this article. If you have a business or service that you would like to promote on BitcoinWarrior.net, please be in touch at editor(at)bitcoinwarrior.net.