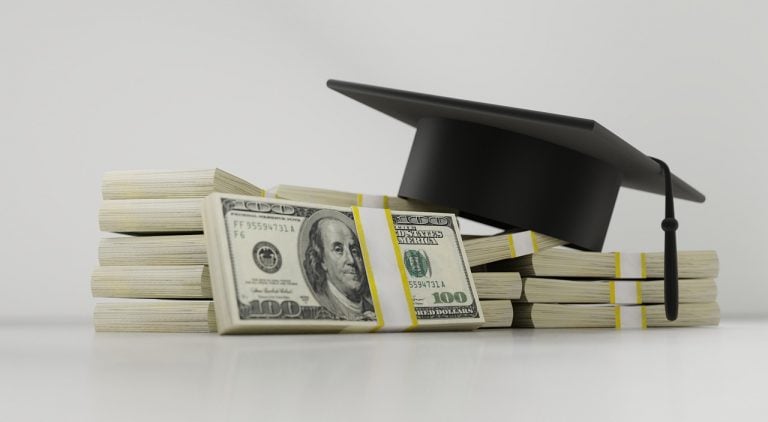 President Joe Biden has once again pushed forward with pausing more than $1.6 trillion in federal student loans in a recent announcement on April 6. This would mean that roughly 43 million American families will be deferred from repaying their federal student loans until August 31.
This is not the first of such for the Biden administration, as the White House announced in December 2021 that it would first hold off on all student loan repayments until May 2, 2022. Now that a new extension has been publicly announced, families can start working on new repayment and refinancing strategies once the current round of extensions expires later this year.
Q1 2022 hedge fund letters, conferences and more
But this freeze is not at all surprising to some, as lawmakers on both sides of the aisle have been tirelessly working with the Biden administration on curating a plan that could help defer future student loan repayments.
The partial forgiveness has to some extent helped families save an additional $393 per month, a much-needed relief as consumer prices have skyrocketed in recent months AND inflation reaching its highest in more than four decades.
The current execution will highlight the importance of federal intervention in student loan forgiveness efforts, but could also assist on a state level to help address ongoing teacher shortages that have yet to be addressed across the country.
The U.S, much like the rest of the world, enters a second ongoing year of the pandemic, and local economic recovery is being bolstered from every side. How can student loan forgiveness, and federal assistance aid future American educators and early learning centers in the coming years?
Pressure Mounts As Enrollments Decline
The last few years have been anything but merciful for American teachers and educators. Although the pandemic was cause for concern, declining new undergraduate enrollment was seen falling by 11% between the fall of 2020 and 2021 according to the American Association of Colleges for Teacher Education (AACTE).
The same report published by AACTE found that 20% of surveyed colleges and universities claimed that the pandemic was the main cause of the declining enrollment.
During the same time, Oklahoma City University was one of the very first public institutions that suspended their education programs for much of the 2020 and 2021 academic years. Until now, applications are still not being accepted for these programs.
Oklahoma City University is one of a few public institutions that have seen worrisome numbers of new student graduates, as the pandemic and financial circumstances further push educators to permanently resign from the profession.
Perhaps earlier intervention could become a long term solution to the current situation. As mentioned by HaileyBury Early Learning Center, "early childhood development could facilitate the interest of medicine and the overall field of public health care. If proper guidance and attention to education is directed towards how students understand or perhaps experience an introduction to these highly-skilled fields, we could be on the track towards change and adoption."
According to the National Center for Education Statistics, the average cost of a four-year education program at a public institution as of 2020 was $21,035 per year, in 1963, this was $929 per year.
Private, nonprofit, and for-profit institutions' tuition fees are almost double, with the average cost as of 2020 roughly standing at  $45,932 per year; the same course cost $1,810 between 1963 and 1964.
Skyrocketing tuition fees and the vast difference between public and private tuition fees have driven undergraduate enrollment to some of its lowest levels yet. Alongside socio-political issues, economic uncertainty has given much cause for concern over the current state of the education system.
State-Level Action Possible Solution
Although the federal government has managed to step in, as growing student loan debts have burdened American households for decades, long-term solutions are perhaps more solidified when zooming in on state-level intervention efforts.
In a recent move, the University of Wisconsin-Platteville has become the first and so far only public institution in the U.S. to assist future teachers with student loan debt.
While these actions are not only considered as an explanation for the state of financial matters, it's perhaps an attractive selling point that could engage future educators and teachers looking to enroll in undergraduate education majors.
The university aims to assist graduate teachers making less than $20,000 per year to receive 100% forgiveness – drawing attention to rural school districts that are currently experiencing the most severe teacher shortages.
Additionally, provisions have been made for students looking to either teach in elementary or middle schools who will be making less than $48,000 during the first year.
Considering how the University of Wisconsin-Platteville is working to entice students to accept job openings at smaller, and more rural schools, the program could perhaps become the building blocks that could present itself as a partial solution to educator shortages experienced in major areas of the country.
Department of Education offering other pathways
Ongoing circumstances have not yet managed to reach a crisis level, but perhaps considering the current state of things, it would've been considered applicable to direct concern towards the Department of Education.
Matters of progress are still considered somewhat lacking facilitation to ensure more active resolutions are brought to the table. In April 2022, the Department of Education released a statement claiming that it's looking to set aside more than $65 million that will promote the Supporting Effective Educator Development (SEED) grant program.
According to the statement, the official definition from the Department is that the SEED program will "support the implementation of evidence-based practices that prepare, develop, or enhance the skills of educators."
Attention might have been given to addressing the current teacher shortage, and it's perhaps a time-sensitive solution, but could the Department of Education alongside federal loan forgiveness stimulate students to enroll in education-related study fields?
American Rescue Plan running dry
The American Rescue Plan (ARP) was one of the largest ever stimulus packages passed by the federal government, as more than $1.9 trillion was set aside to assist American households and businesses who were grappling with the economic difficulty imposed by the pandemic.
While ARP was divided among various industries and sectors, more than $39 billion was allocated to the child care sector. This allocation would see the assistance of private schools, learning centers, and other child care facilities. While ARP managed to do just that, support and funds are slowly starting to dry up.
Distribution of the funds among states, and local school districts did manage to keep the doors open of most child care and school facilities during 2021, and the start of 2022 thus far.
Yet, the allocation from ARP has remained a tumultuous route for many educators, as local authorization and application approval were just some of the hurdles teachers and business owners experienced throughout the last few months.
The stimulus support did paint a vivid picture of the overall support these facilities require, not just in federal funding, but from local districts as well.
Nonetheless, the American Rescue Plan did throw a much-needed lifeline for millions of educators, it partially addressed how the American government can assist in the advocating of educators and teachers when faced with difficulty.
The Bottom Line
The newly formed plan that would see another round of partial student loan forgiveness until later this year could perhaps be a stark indicator to the federal government, state and district authorities, alongside government institutions that the current situation is more than just about student loan debt forgiveness.
These and other attributes directly point to the massive amount of financial resources and assistance required to address how the current education system is perhaps starting to collapse on itself and within itself.
But as mentioned, these are all partial solutions, and temporary and best – long-term advocacy has and will for the coming years be a hot topic of conversation among current educators.
Finally, we see that student loan forgiveness alone cannot solely be a solution that can address teacher shortages, but rather that private and public institutions will be required to give more leverage on financial means to entice the active enrollment of new undergraduate educators.