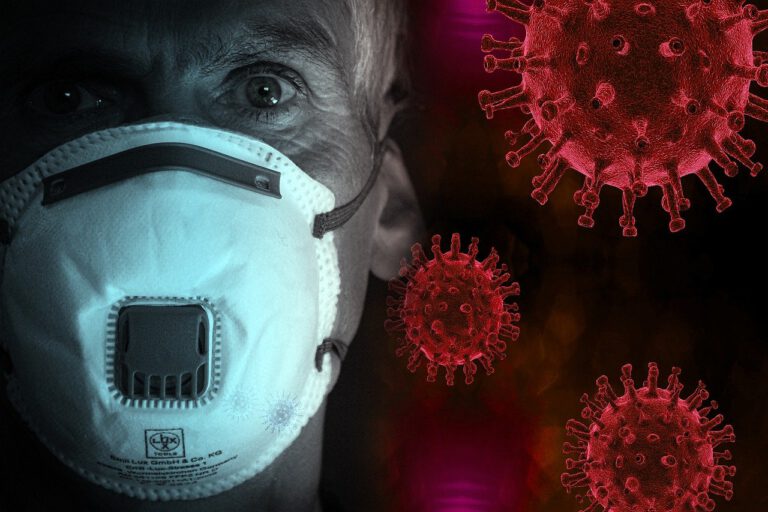 Fight COVID-19 Deaths With Personal Responsibility; Mortality Could Be Slashed If People Took Simple Healthful Steps
Q1 2020 hedge fund letters, conferences and more
Reducing The COVID-19 Death Toll
WASHINGTON, D.C. (May 18, 2020) –  Americans are being bombarded with messages urging them to take steps – such as hand washing, keeping their distance, wiping surfaces, etc. – to reduce the toll of the coronavirus, but little about making other lifestyle changes which could likewise slash the COVID-19 death toll, and also save millions of lives and hundreds of billions of dollars in unnecessary medical costs, suggests public interest law professor John Banzhaf.
Since studies show that losing weight and stopping smoking can substantially reduce the mortality rate from COVID-19, perhaps the government and health groups should spend at least as much time and effort, now consumed on persuading people to wash their hands and keep their distance, in urging Americans to take personal responsibility for their own health choices and lifestyle decisions; actions which would also slash deaths and medical costs from other major diseases such as cardiovascular problems (including strokes and heart attacks), many cancers, diabetes, C.O.L.D., and even home fires and automobile accidents, says Banzhaf.  Here's why.
Obesity
A recent study by NYU shows that the biggest controllable factor in determining whether those with COVID-19 need hospital care is obesity.  COVID-19-infected patients under age 60, with a BMI of 30-34, were twice as likely to be admitted to acute or critical care as those at the same age with BMIs less than 30. Those who were morbidly obese [BMI > 35] were three times as likely to be admitted to the ICU.  Researchers at the University of Liverpool warned that obesity increased the risk of dying from the virus by 37%. "The chronic condition with the strongest association with critical illness was obesity, with a substantially higher odds ratio than any cardiovascular or pulmonary disease," researchers have concluded.
A UK study of NHS records found a doubling of the risk of dying among COVID-19 patients who were obese.  Researchers also reported that if other health conditions linked to obesity – such as heart disease and diabetes – were also taken into account, the increase in risk would be much greater.  So perhaps its not surprising that Britons who are obese may be forced to stay home, even as others are permitted to return to work, when the coronavirus lock down is relaxed, according to various reports.
A very recent CDC study shows that obese people are much more likely to suffer severe symptoms from COVID-19.  In China, where the outbreak began, being obese was associated with a 142% higher risk of developing severe pneumonia associated with COVID-19.  A larger study of over 4,000 patients with COVID-19 in New York City found that severe obesity was a major risk factor for hospitalization, second only to age.  In Seattle, 85% of hospitalized patients who were obese required mechanical ventilation, compared to 64% of patients without the condition. Moreover, 62% of the patients who were obese died of COVID-19, compared with 36% of those who were not obese.
In addition to being a major factor in exploding the number of COVID-19 death toll, one study has reported that in the U.S. the "total cost of chronic diseases due to obesity and overweight was $1.72 trillion – equivalent to 9.3 percent of the U.S. gross domestic product [GDP]," although other estimates are somewhat less but still very high.  As with smoking, most of this huge and unnecessary cost is paid by people who are not obese (or smokers), in the form of higher taxes for unnecessary medical expenses under Medicare, Medicaid, Obamacare, Veterans' and Indian benefits, and other welfare programs, and in grossly inflated health insurance premiums.
Ironically, the closing of schools because of the pandemic could substantially increase obesity among children, experts warn, because they will no longer have scheduled gym periods or the chance to run around during recess, and more opportunity and temptation to snack in front of a screen while stuck inside at home.
Smoking
Early studies suggest that smokers who develop COVID-19 are 14 times more likely to need intensive treatment compared with nonsmokers. Newer studies indicate smoking may also increase a person's chance of contracting the coronavirus, because tobacco increases a certain enzyme receptor in the cells – angiotensin-converting enzyme-2 – where scientists believe the virus attaches and infects it.  In addition, a very large meta-analysis at UCSF, which looked at 11,590 COVID-19 patients in 19 independent studies, showed smokers to be at nearly twice the risk as non-smokers for the virus to worsen once a patient becomes infected.
Despite some claims that nicotine might reduce the risk of initially acquiring COVID-19, the World Health Organization has warned that smoking does not protect against COVID-19, and that smokers who get infected have a higher risk of severe disease and death. In the organization's own words,"a number of studies have found that smoking leads to the development of severe diseases and puts people at higher risk of being on a ventilator, being admitted to intensive care, and eventually of dying . . .  we know the harms of smoking and we know that smokers, if they do get infected with COVID-19, have a higher risk of severe disease and death."
In addition to its role in greatly increasing the number of deaths from COVID-19, the federal government says smoking kills almost half a million Americans every year, including over 40,000 innocent nonsmokers. According to the American Lung Association, smoking costs the U.S. economy more than $332 billion in direct health care costs and lost productivity every year; a huge unnecessary expense imposed on all Americans by only about 15% of the adult population.
Ironically and tragically, the COVID-19 stay-at-home orders are boosting the sales of cigarettes, as people smoke more because of the boredom of being stuck at home.
Reducing Obesity
A very recent study has proven how the U.S. can slash its obesity rate by taking the same simple steps which Chile took four years ago, and which other countries are beginning to follow.  It showed that a few simple measures have, for example, slashed consumption of sugary soft drinks – the major source of unnecessary sugar and calories in the diet of most teens – by almost 25%.
"An effect this big at the national level in the first year is unheard-of," said the study's lead author, a nutrition epidemiologist at the University of North Carolina.  "It is a very promising sign for a set of policies that mutually reinforce one another. This is the way we need the world to go to begin to really combat preventable diseases like obesity, hypertension and diabetes."
The new policies – which are already being copied in part by Peru, Uruguay, Israel, Brazil, Mexico, and other countries – include:
Raising the tax on sugary soft drinks
Advertising restrictions on unhealthy foods,
bans on unhealthy food commercials from 6AM to 10PM
bold front-of-package black-box warning labels
no more cartoons on sugary cereal boxes
a ban on junk foods available in schools
Another study showed that Chilean children were subjected to half as many ads for junk food and sugary drinks after these restrictions were put in place.
Reducing Smoking
A much longer and more successful history of fighting smoking makes it clear that the incidence of this number one and most expensive U.S. killer, and a major factor in COVID-19 mortality, can be reduced by taking steps which would not adversely affect – and, indeed, would help – the approximately 85% of the adult population who wisely do not smoke, but unfortunately have to pay most of the huge costs it imposes on society in many different forms.
These steps include:
comprehensive restrictions on smoking in workplaces and other places where people gather; in homes or vehicles where children reside or are present; and in condos, apartments, and even homes where the smoke drifts or recirculates into other dwellings
much higher federal and state taxes on tobacco products to require smokers to bear more of the huge costs their habit now forces others to bear
larger and more vivid – including pictorial – warnings about the dangers of smoking, such as those required for years in many other countries
requiring smokers to pay more for health insurance – as they have long paid more for life insurance, and in some cases for home, fire, and automobile insurance – as established by data showing how the habit increases each of these costs
COVID 19 deaths: Conclusion
If governments can require Americans to stay in their homes, shut many businesses, and put huge numbers of people out of work to combat only one disease, logically they should be willing to take much less intrusive disruptive steps to reduce it, as well as other major causes of unnecessary deaths, disability, and massive medical costs by reducing obesity (e.g., limiting commercials, warning labels, banning cartoon figures) and reducing smoking (e.g., protecting children from deadly secondhand smoke, pictorial warnings on packs, extending Obamacare's 50% smoker surcharge), Banzhaf argues.
Professor Banzhaf has been called "The Man Behind the Ban on Cigarette Commercials," "Mr. Antismoking," the lawyer "Who's Leading the Battle Against Big Fat," "a Driving Force Behind the Lawsuits That Have Cost Tobacco Companies Billions of Dollars," and "The Man Big Tobacco and Now Fast Food Love to Hate."
The post Fight COVID-19 Deaths With Personal Responsibility appeared first on .