On Monday U.S. stocks took a major plunge, especially tech stocks, but it didn't last as many of them rallied on Tuesday. However, as the day went gone on, many U.S. stocks started to slump back toward where they were at opening bell, so it would seem volatility is here to stay. Now on Wednesday, it looks like stocks are rallying again, but it could be an entirely different story by the time closing bell rolls around.
Despite the weakness in the stock market, many fund managers see plenty of room for equities to fall, according to Bank of America Merrill Lynch's November Global Fund Manager Survey.
Not at "The Big Low" yet
BAML Chief Investment Strategist Michael Hartnett and team said after analyzing the results of their November survey, they're staying bearish. They explain that fund manager positioning doesn't signal what they call "The Big Low in asset markets" just yet. They don't expect the market to reach this low point until at least the second quarter of 2019. According to Harnett, BAML's Bull & Bear Indicator sits at 3.1 right now, which does not send up an "'extreme bear' contrarian buy signal."
Q3 hedge fund letters, conference, scoops etc
Fund managers expect the S&P 500 to peak at 3,056, which would be a roughly 10% increase.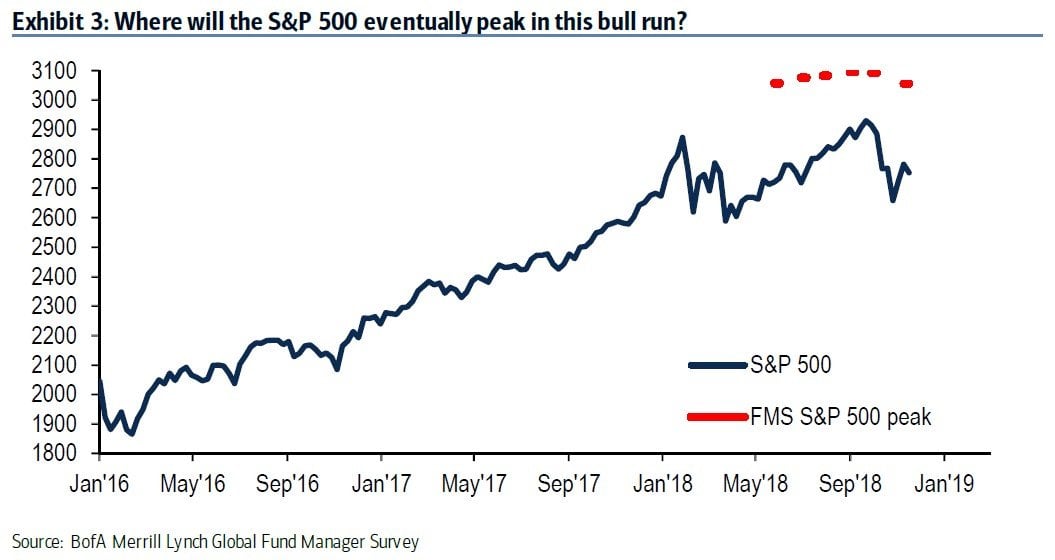 However, the BAML team adds that a significant percentage of fund managers believe U.S. stocks have already peaked. According to their November survey, about 30% of participating fund managers believe the peak is already behind us, which is double the reading from last month.
Fund managers are also holding back on rotating from stocks to bonds until the 10-year Treasury yield hits 3.7%.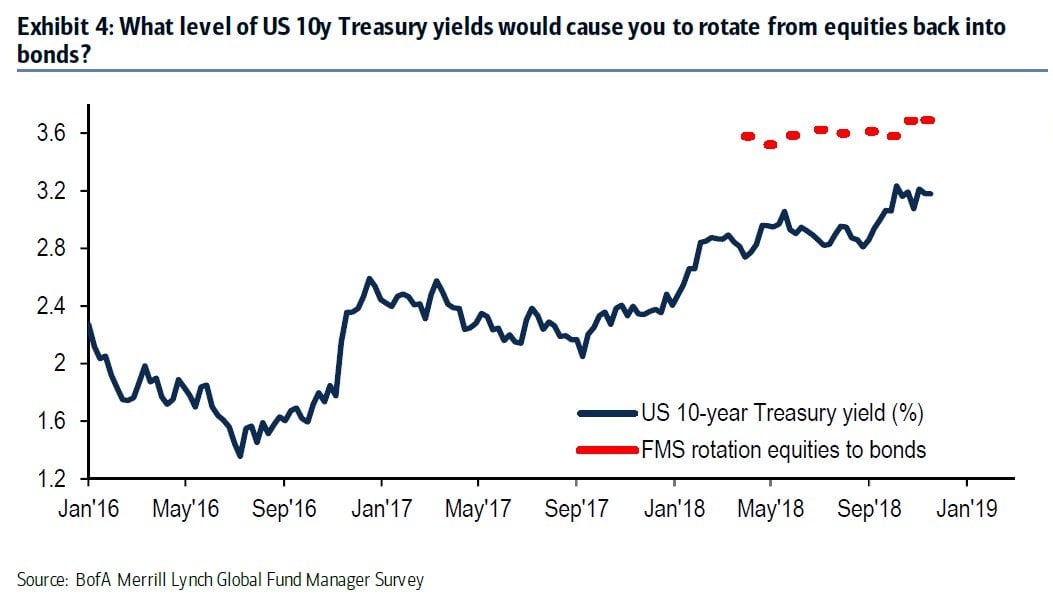 Cash drops, U.S. and EM equities rise
Cash levels plunged early this month, falling from 5.1% last month to 4.7% in November as investors bought the correction in October. The cash level remains a little over neutral. According to BAML, the cash drop funded an uptick in exposure to U.S. and emerging market stocks, REITs and the healthcare sector.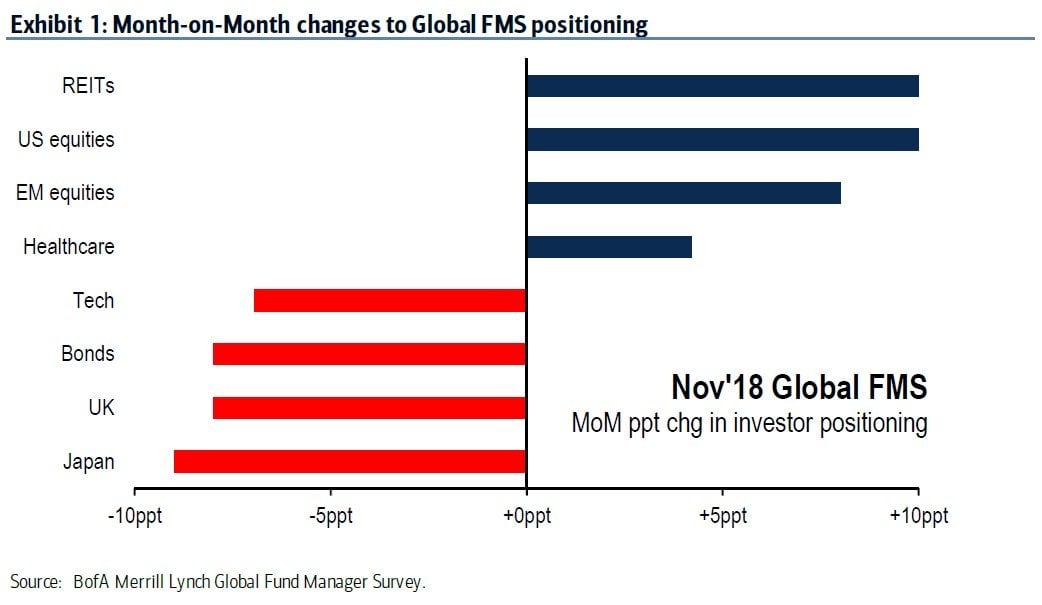 However, the November survey also found another sign that tech is falling out of favor. The BAML team reports that allocation to tech plunged to the lowest level it has been at since February 2009. Only 18% of fund managers are net overweight on the sector as of this month.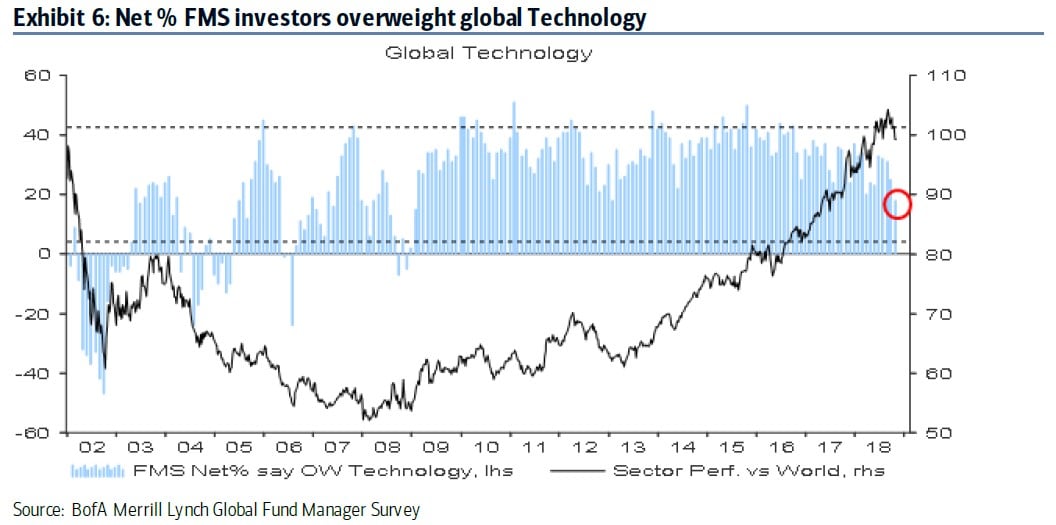 Additionally, the number one most crowded trade, according to fund managers, is the long FAANG+BAT trade (Facebook, Apple, Amazon, Netflix, GOOGL/Alphabet + Baidu, Alibaba, Tencent). Fund managers also see shorts of U.S. Treasuries and long positions on the U.S. dollar as other crowded trades right now.
Despite the increasingly disparaging view of tech among fund managers, the November survey did not reveal any rotation from tech into value stocks, the BAML team added, describing this point as "ominous."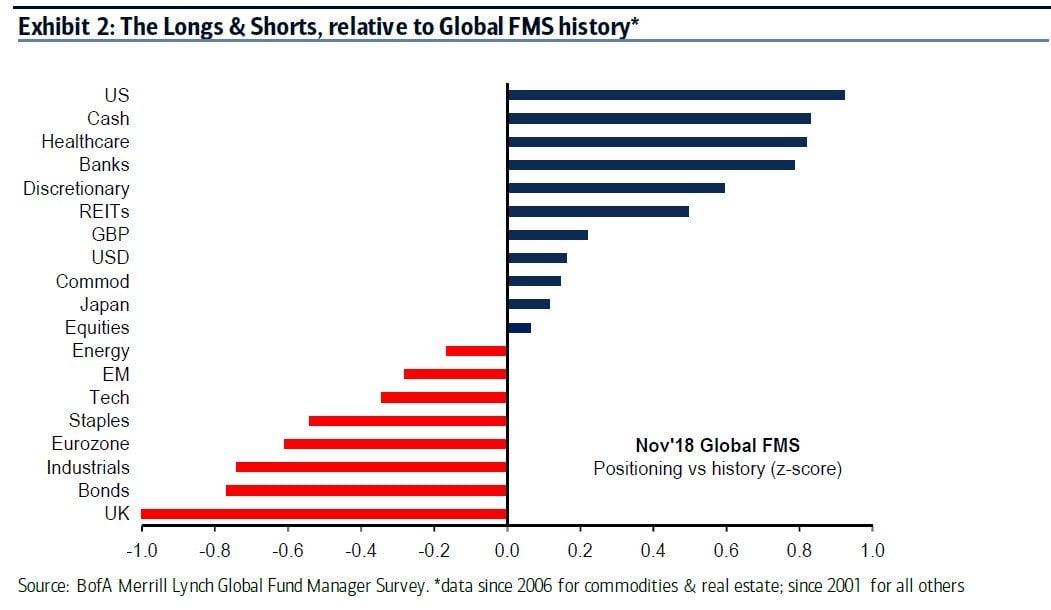 Best and worst assets in 2019
BAML also asked fund managers what they think will be the best- and worst-performing assets next year. Almost half of managers expect non-U.S. equities to be the best-performing asset in 2019.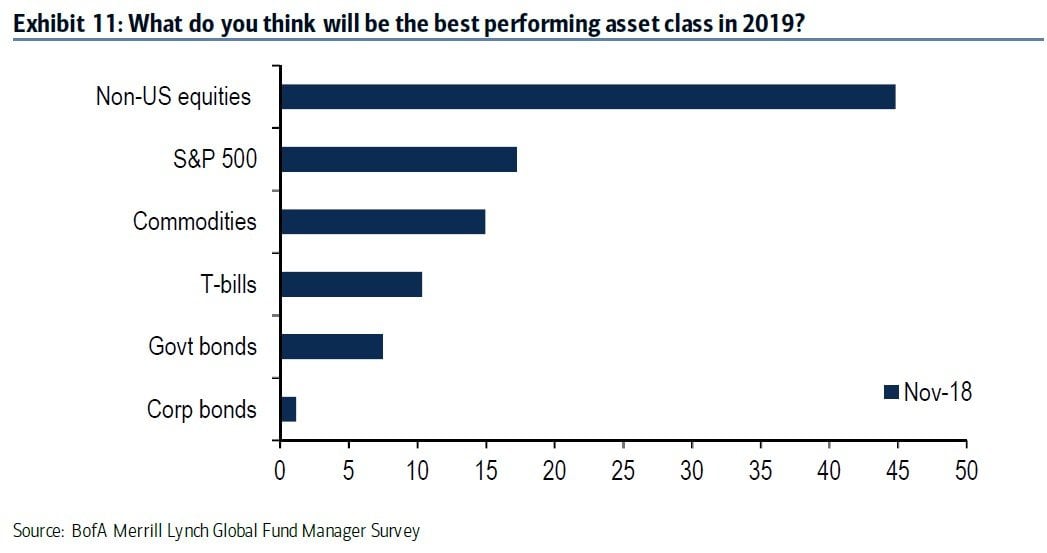 However, it's a much closer running when it comes to expectations for the worst-performing asset next year.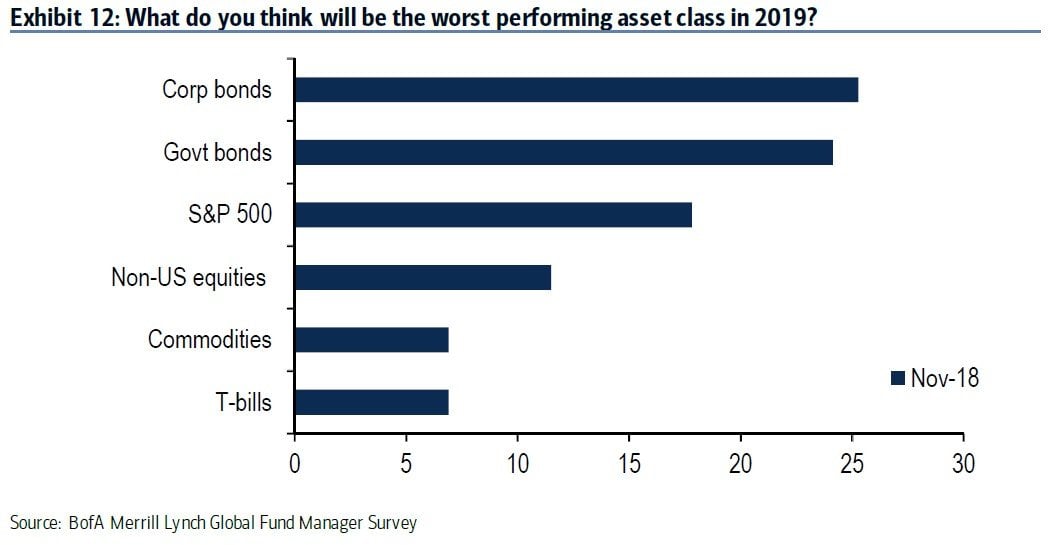 Trade war concerns continue, but fund managers aren't as worried as they were
Fund managers see the trade war as the greatest risk right now, according to BAML's survey, but their concerns are not as great as they were.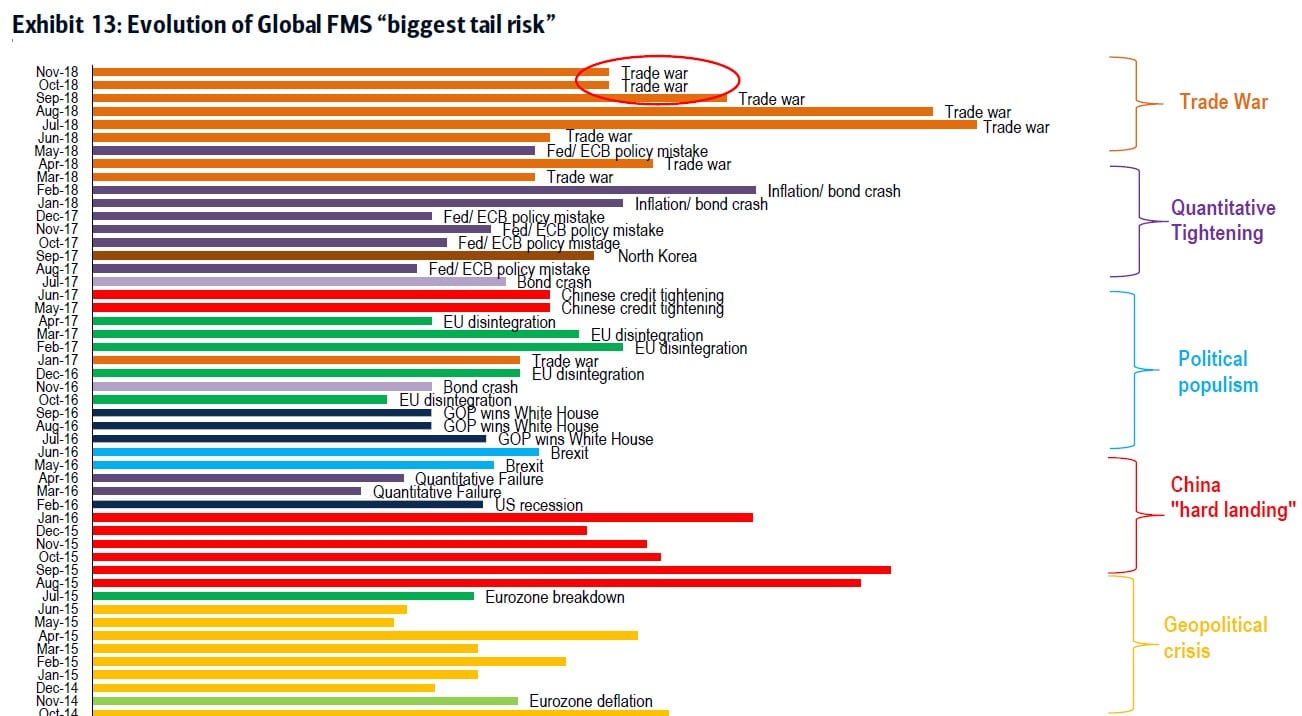 Other tail risks mentioned by fund managers include quantitative tightening and the slowdown in China.
This article first appeared on ValueWalk Premium
The post Keepin' It Bearish: Hedge Fund Managers See More Room To Fall appeared first on ValueWalk.