Last weekend, Berkshire Hathaway, the conglomerate managed and still majority owned by the Oracle of Omaha Warren Buffett, published its results for the second quarter of 2018.
Q2 hedge fund letters, conference, scoops etc
Unlike almost all of its publicly traded peers, Berkshire Hathaway publishes Its results on a weekend when markets are closed, a quirk instigated by Warren Buffett to give shareholders time to digest the figures before markets around the world open on Monday morning.
Following in the footsteps of Warren Buffett with Hidden Value Stocks
The group's second-quarter earnings the highly anticipated because only a few weeks ago, Berkshire announced that it was changing its stock repurchase policy. Previously, the company had given management authorization to repurchase shares below the 1.2x book value threshold, what became known as the 'Buffett put' as the market knew if the stock declined below this level, Buffett would begin buying hand over fist to make the most of the opportunity offered to him.
Under the new regime, the company will repurchase shares when the stock is trading at a level that Warren Buffett and his Vice Chairman Charlie Munger believe is "below Berkshire's intrinsic value." The determination of intrinsic value will be made "conservatively" according to the press release which announced the change in stance. The press release also noted that Berkshire would not attempt to repurchase stock under its new policy until it releases second-quarter results. The market is waiting with baited breath for Buffett to begin deploying some of his cash pile to increase shareholder value repurchasing shares.
For undervalued stock ideas, I highly recommend that you check out ValueWalk's exclusive magazine, Hidden Value Stocks.
Amid all the fuss around share repurchases, it has been easy to overlook Berkshire's second-quarter numbers. The figures are nothing short of outstanding. As the US economy powers ahead, Berkshire Hathaway is firing on all cylinders, and earnings are surging helped by the Trump tax cuts passed at the end of last year.
Overall for the second quarter operating income jumped 67% year-on-year. Earnings per share per B share hit $2.79, smashing Wall Street consensus of $2.24.
All parts of the conglomerate showed growth, but insurance and reinsurance really stand out. Pre-tax underwriting income hit $1.2 billion for the quarter, compared to a small loss a year ago. Higher pricing helped GEICO report a combined ratio for the period of 91.9%, better by 4.2 percentage points (a combined ratio of less than 100 indicates that the business is making an underwriting profit). Stronger pricing helped drive part of this growth with lower claim frequency also proving to be a tailwind.
Here's Morgan Stanley's view on how the rest of the business performance during the period under review:
BNSF revenue grew +12% and pre-tax income increased +8%. Manufacturing, Service and Retailing revenues (ex. McLane) were +8% higher while pre-tax earnings increased +13% YoY. Financial Products saw a +16% increase in revenue and +11% in pre-tax income. Berkshire Hathaway Energy revenue grew +9%, but pre-tax income declined -13% as the regulated utilities are passing tax reform benefits to customers.
One of the most closely watched parts of Berkshire's business is the group's equity portfolio. During the quarter, this portfolio generated $5 billion of mark to market investment gains. A large part of this performance can be attributed to the performance of Apple, which earlier this month became the first company in the world to achieve a $1 trillion market cap. According to Berkshire's earnings release, at the end of the second quarter, the group ended the period with a $47.2 billion stake in Apple Inc. According to various sources, the number suggest that Berkshire may have bought about 15 million Apple shares in the second quarter, on top of 239.6 million it already owned at the end of Q1. In total, Berkshire spent $6.1 billion of its $111 billion cash and short-term investments adding to its giant equity portfolio during the three months to the end of June.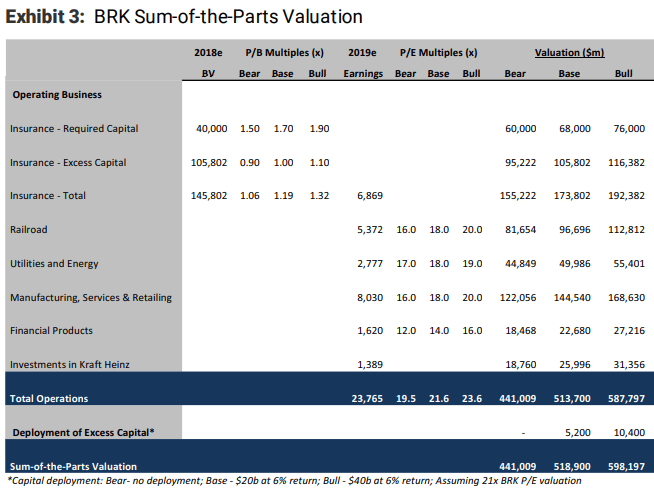 At the end of the quarter, book value per B Share was up 3% to $145.12. Book value per A Share was $217,677 on June 30. At current prices, this means the stock is trading at somewhere between 1.4 times and 1.5 times book. According to Barron's, Berkshire watchers believe Buffett's estimate of Berkshire's intrinsic value could be somewhere between 1.5 times and 1.9 times book value. Back to Morgan for their view on buybacks:
"We think the change [in buyback policy] gives Messrs. Buffett and Munger flexibility to return portion of its growing cash pile to shareholders. Current P/B multiple of ~1.4x is slightly above ~1.3x levels at the announcement but we think Berkshire could start repurchasing shares after 2Q earnings. Current market environment is less ideal for Berkshire acquisitions. However, share buybacks will not preempt future deals as Berkshire has the dry power to do both,and maintaining $20b minimal cash on hand."
Disclosure: The author owns shares in Berkshire Hathaway.
The post Berkshire Hathaway All About The Buybacks appeared first on ValueWalk.