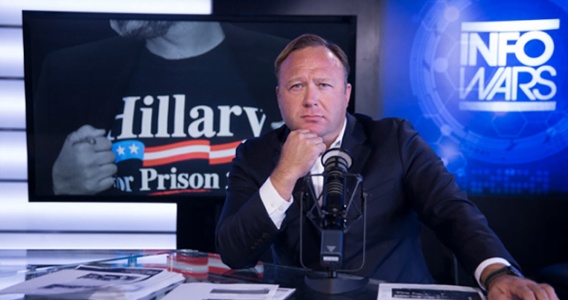 Apple is the latest company to block Alex Jones and his controversial news site Infowars. However, unlike other tech companies, Apple's decision is the most aggressive as it axed five of the six Infowars podcasts streamable on its iTunes and Podcast apps. The podcast still available is Real News with David Knight.
Apple removes almost all Infowars podcasts
Confirming the ban, Apple told Buzzfeed that it "does not tolerate hate speech" on its platform. Now that the podcasts have been removed, users will no longer be able to search for the Infowars podcasts in the directory. The Infowars podcasts that have been removed include the show "War Room," and the popular Alex Jones Show podcast.
Apple's decision to remove all of Jones' podcasts is among the largest action by a technology company to date to limit conspiratorial news content. It must be noted that Apple does not directly host Jones' shows; rather it allowed iPhone users to search and subscribe to Jones' shows.
So, even though Apple is not the only distribution platform for Infowars, Apple's decision will surely limit the reach of the conspiracy theorist. According to the estimates, Apple, with about two-thirds share of the market, is the biggest podcast platform. Also, Apple Music recently surpassed Spotify in terms of paid subscriber numbers.
Apple told Buzzfeed that it had notified Alex Jones about its decision to remove the Infowars podcasts.
"We believe in representing a wide range of views, so long as people are respectful to those with differing opinions," the company said.
Apple has long been facing pressure and criticism from activist groups for allowing Infowars. Recently, Sleeping Giants – an online activist group –criticized the iPhone maker for not taking needed action against Jones' content even though it violates Apple's terms of service.
On Sunday, Sleeping Giants, the online group lobbying for tech platforms to cut all ties with Jones, praised Apple for its bold decision. The online group also took a dig at other tech firms like YouTube, Facebook, and Spotify, which "have been twisting themselves into pretzels inventing ways to avoid having to enforce their own Terms Of Service on Alex Jones," Sleeping Giants told BuzzFeed News.
What other tech firms are doing?
Earlier this year, Spotify removed many Infowars podcasts following complaints from the users. Stitcher, an online radio service, also blocked Infowars podcasts on its platform following a review, which concluded that Jones had "harassed or allowed harassment of private individuals and organizations."
Last month, YouTube also pulled down several videos from The Alex Jones Channel for violating its community guidelines. Facebook adopted a defensive stance initially with Mark Zuckerberg telling Recode "as abhorrent as some of this content can be, I do think that it gets down to this principle of giving people a voice." Later, the social networking giant blocked thirty of Jones videos over breaching community standards.
Separately, on Monday, Facebook announced that it removed four pages that were promoting Jones' conspiracy theories. The pages removed were: Infowars Nightly News Page, The Alex Jones Channel Page, the Infowars Page and The Alex Jones Page. In a press release, the social networking giant explained that the pages were taken down for "glorifying violence" and violating "our hate speech policies."
Alex Jones and his conspiracy theories
Alex Jones is still to comment on Apple's decision. However, he did post a message praising Knight, the podcast that is still available on Apple's platform. It must be noted that Jones has a verified Twitter account with 825,000 followers. Jones has built a vast audience since founding Infowars in 1999.
Jones has long been using Infowars in combination with the platforms offered by these tech companies to popularize his wide-ranging conspiracy theories. His conspiracy theories claim that 9/11 was staged by the government, while he made a similar claim about the San Bernardino shootings as well.
Besides these, his hoax theories about another U.S. mass shooting, Sandy Hook, are the most criticized. He claims that the school massacre, in which 26 children and adults died, was faked to promote gun control. Because of his claims, some of the families of the deceased have faced harassment online and even death threats. Jones is now facing a defamation suit because of the same.
The post Apple Makes A Bold Move, Removes Alex Jones And Infowars Podcasts appeared first on ValueWalk.