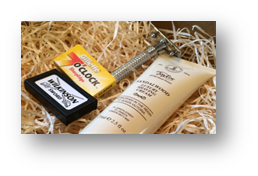 As a service to the Bitcoin community, Bitcoin Warrior is featuring merchants and services that offer discounts when purchased in Bitcoin. Today we are featuring:
Traditional shaving goods for the modern age: in recent years the big shaving products manufacturers realized that if they made special handles with special heads, they could have a great business selling their 'custom' blades that only work with one type of their own brand of razor handle. Mach 5 anyone?
With traditional, high-quality safety razors, you apply minimal pressure when you have and the razor will do its job without you having to go back over the same spots again and again.
Location: Suffolk, England
Discount: 5% off when paying with Bitcoin.
You can visit them here.
If you have a business that offers a Bitcoin discount and would like to be featured on Bitcoin Warrior, please click on the 'Submit a Bitcoin Business' link at the top of the page.
The claims made here are the sole responsibility of the merchant.