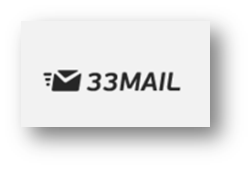 As a service to the Bitcoin community, Bitcoin Warrior is featuring merchants and services that offer discounts when purchased in Bitcoin. Today we are featuring:
Created by brothers Ian and Andrew Clarke when they got frustrated by the amount of spam they were getting. They provide unlimited, free, disposable email addresses. When you sign up with a new service, you use one of these email address, and then get the mail forwarded to an address that you designate. You can even respond from that address. And then you can avoid all the spam that comes when your email address gets sold or stolen.
Location: Worldwide
Discount: 20% discount for premium services when you pay in Bitcoin.
You can visit them here.
If you have a business that offers a Bitcoin discount and would like to be featured on Bitcoin Warrior, please click on the 'Submit a Bitcoin Business' link at the top of the page.
The claims made here are the sole responsibility of the merchant.